Co musisz wiedzieć o Ransomware


Ransomware, które przynosi cyberprzestępcom zyski rzędu milionów dolarów, jest uznawane za jedno z największych zagrożeń, z którymi muszą się dziś zmagać przedsiębiorcy.
Jak na ironię, największymi stratami spowodowanymi przez atak ransomware nie są kwoty okupu, których żądają cyberprzestępcy, ale czas przestoju firmy 1. Nie powinno więc nikogo dziwić, że tylko co trzecia firma uważa, że będzie w stanie wyjść na prostą po ataku ransomware.
Bitdefender od dawna uważnie śledzi, w jaki sposób rozwija się ransomware, przewidując jego kolejne kroki i wprowadzając technologie, które są sobie w stanie z nim poradzić.
Dissecting the APT28 Mac OS X Payload
Since the APT28 group's emergence in 2007, Bitdefender has become familiar with the backdoors used to compromise Windows and Linux targets, such as Coreshell, Jhuhugit and Azzy for the former OS or Fysbis for the latter. This year we have been able to finally isolate the Mac OS X counterpart - the XAgent modular backdoor. This whitepaper describes our journey in dissecting the backdoor and documenting it piece by piece.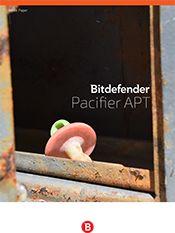 Bitdefender detected and blocked an ongoing cyber-espionage campaign against Romanian institutions and other foreign targets.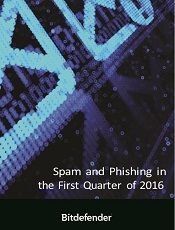 Spam and Phishing in the First Quarter of 2016.
When it comes to persistent Internet pests, spam is a veteran. Seemingly innocent, this old threat now delivers one of the newest, and most dangerous payloads yet – crypto ransomware. READ MORE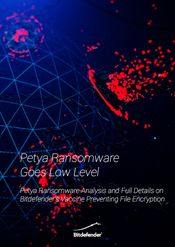 Bitdefender's Vaccine Preventing File Encryption
The new Petya ransomware seems to have been built with speed in mind, as to expedite the encryption process. While traditional ransomware encrypts files one by one, Petya encrypts the location containing all information about disk files, such as size, permissions, and data content, essentially preventing users from accessing all their data. Bitdefender was able to analyze the Petya ransomware and offer potential victims a tool that intercepts the encryption process and offers the decryption key, free of charge. Most importantly, the tool needs to be installed prior to being infected - not afterwards – in order to perform its function correctly.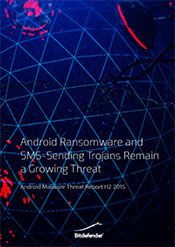 Android Ransomware and SMS-Sending Trojans Remain a Growing Threat - Android Malware Threat Report H2 2015
Ransomware has been plaguing Windows PC for the past couple of years, but recently it seems to have developed platform-agnostic capabilities and has moved towards Linux and Android. While not yet as advanced as its Windows counterpart, Android ransomware can still cause massive headaches, disruptions and financial losses. Bitdefender Android telemetry shows the Android.Trojan.Slocker ransomware family ranked first in UK, German and Australian charts, based on the number of devices that reported it. Android ransomware could be considered more important than it's PC counterpart because mobile devices have access to and store a lot of personal and even corporate data that's usually not backed up. Losing that data or simply being denied access to it could be irreversible and users would be far more inclined to pay to recover their contacts, conversations, pictures and documents.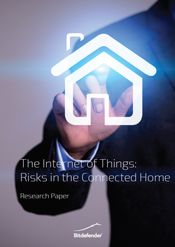 The Internet of Things: Risks in the Connected Home
Bitdefender believes the IoT can reach its full potential only if interactions between users, devices, applications and the cloud are authentic and secure. In this light, researchers from Bitdefender Labs examined four Internet-connected consumer devices and found several common vulnerabilities. The analysis reveals that current authentication mechanisms of internet-connected devices can easily be bypassed to expose smart households and their inhabitants to privacy theft.
Ransomware. Perspektywa ofiary badanie na użytkownikach Internetu ze Stanów Zjednoczonych i Europy.
Wirusy biologiczne próbują dostosować się do otoczenia, aby przetrwać. Te, którym się to udaje mogą się rozprzestrzenić i rozwinąć w epidemię. To samo dzieję się w przypadku zagrożeń cybernetycznych. W 2015 roku ransomware spowodowało szkody wysokości 350 milionów dolarów i stało się tym samym największym jak dotąd zagrożeniem dla użytkowników internetu i organizacji. Badanie przeprowadzone przez Bitdefender na 3,009 użytkownikach internetu z USA, Francji, Niemiec, Danii, UK i Rumunii w listopadzie 2015 r. pokazuje perspektywę ofiar ataków na utratę danych przez crypto-ransomware. Co sprawia, że ofiary decydują się zapłacić okup? Jak bardzo cenią sobie swoje dane? Jaką rolę pełni ochrona antywirusowa w rozwiązywaniu problemu?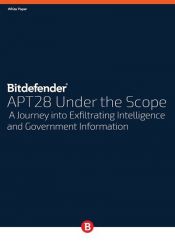 APT28 Under the Scope: A Journey into Exfiltrating Intelligence and Government Information
The discovery of Stuxnet in the nuclear processing plant in Natanz, Iran laid the ground for a new family of cyber-attacks: advanced persistent threats. Although the term has since become highly popular, state-sponsored cyber-intelligence operations have been carried out since long before the advent of Stuxnet or Flamer; less known advanced persistent threats such as APT28 (or Sofacy) have been covertly running in Europe since 2007. To connect the dots between an identified attack and the state actor(s) behind it, companies like Bitdefender look for solid evidence inside the APT code or in the used communication infrastructure. The following report is a technical investigation of some particularities in the APT28 payload implementation that allowed us to link the threat to its operators.